C2C SmartCompliance's (C2C) B-GRC Methodology
It's important to understand how Governance, Risk and Compliance (GRC) Management is interpreted within an organization. Recently, we've decided to refer to our methodology as B-GRC because it provides a 'business' view of what needs to be included in an overall compliance, risk and governance strategy. Our methodology is designed to help organizations understand how to determine which initiatives should be considered and supported to derive the greatest business value from their efforts – throughout the entire organization.
Each layer of the model has three specific activities that complement each other and that will help the organization understand B-GRC and the current compliance landscape. Following this model and methodology helps to ensure that an effective B-GRC strategy is created.
C2C B-GRC Methodology Results
The C2C methodology helps create 'business' compliance strategies and solutions to manage diverse and multiple environments. The C2C methodology creates and allocates responsibilities for the compliance framework and includes applicable and known regulations, risk scenarios, standards alignment, best practices, policy mapping, procedure controls, record management and capturing of other business-supporting activities.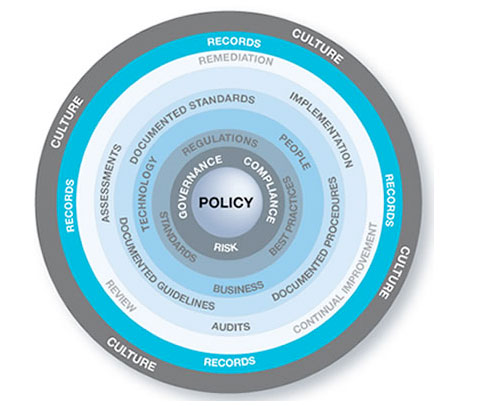 This Ensures That Any Organization Will Be Able To:
Understand the existing compliance landscape
Have a cohesive strategy including mappings of policies to regulations, standards and best practices
Assign responsibilities to appropriate personnel with monitoring, measuring and managing
Align with actual regulations, standards and best practices
Ensure compliance initiatives are corporate and not siloed
Involve all stakeholders in the process
Assess and audit on a regular basis
Make adjustments where necessary
Continuously improve processes